Broadway residents still waiting for mains drinking water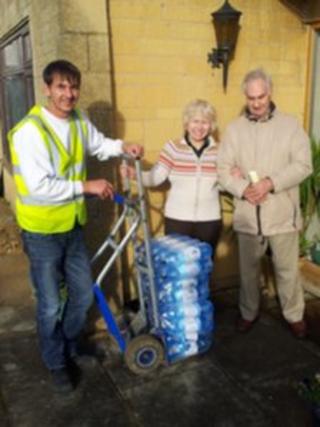 People living in a Worcestershire village that has been without mains drinking water for ten days have had their supplies restored.
But residents of Broadway said the water company involved made sure they had plenty of bottled water.
Severn Trent Water advised people living in 2,000 properties in the village not to drink water from their taps after engineers found a cracked pipe was letting in standing water which was polluting the system.
Patricia Smith and her husband Ken first noticed the problem when the water they were having with their lunch was "cloudy and funny looking" and tasted "horrible".
"Later on that day the loudspeaker van came around saying not to drink any of the water because it's contaminated," Mrs Smith said.
People were told they could still wash in mains water, and although Mr Smith developed a slight rash on his face after he showered on the first day, he has had no problems since.
"I suppose my skin got used to it," he said.
Mrs Smith said they had "more bottled water than we need for ourselves" delivered every day.
Environmental health call
Lindsay Roper and her partner Chris Johns, who run the Pennyland Bed and Breakfast in Broadway, are pleased the incident had no effect on their business.
Like many other people in the village they first heard about the problem when a van went around the village warning people through a loudspeaker not to drink tap water.
Mrs Roper said: "That same night we had a personal phone call from environmental health telling us the situation and by the time we woke up I think there were at least a dozen bottles of water on the doorstep.
"There has been no problem, apart from carting all this water up the drive.
"I've been well impressed, and if all drastic situations could be handled as efficiently as this then all would be well."
Severn Trent said they initially offered each resident 50 litres of bottled water a day, but when residents said this was too much they reduced it to 30 litres.
Joined-up thinking
The company said people can still ask for more water to be delivered if they need it.
Farmer Jessica Hemming said she drank water out of the tap on the day of the warning but has had no health problems.
She confirmed that the water company kept them well supplied with bottled water.
Wychavon District Council also offered extra recycling bags for the empty plastic water bottles.
"It's quite surprising to see joined-up thinking for once - I was staggered, that doesn't happen very often," she said.
She is also "quite happy" that residents have also been told they will have £25 deducted from their next water bill.