Broadway water still unfit 10 days after problems arose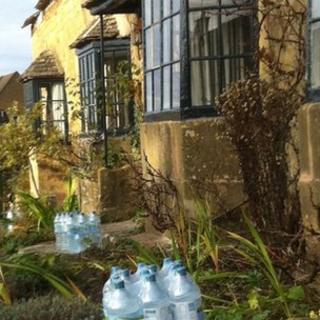 People living in a Worcestershire village are still without drinking water 10 days after problems were found in the supply.
Tests by Severn Trent Water in Broadway last month showed discolouration and a change of taste in water.
Engineers found a cracked pipe was letting standing water in and polluting the system. The firm has apologised.
Bottled water has been handed out and Paul Baldwin from the company said customers will be credited with £25.
The firm had said a safe supply of water could be restored in Broadway on Friday 30 November.
'Can't complain'
Louise Hunt, from the Broadway Deli, said the issue was an inconvenience but the company was communicating well with villagers.
She said: "It's a little bit frustrating but we've seen no real evidence of it putting people off visiting the area.
"We've had gallons of bottled water delivered so we really can't complain too much."
The water can still be boiled and bathed in but not used for drinking or preparing food.
Mr Baldwin said customers would be updated on Monday and he hoped the issue would be resolved within 48 hours.