Kempsey community 'pulls together' after floods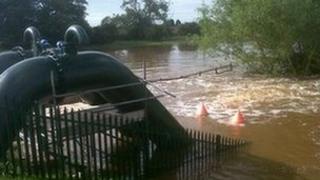 A vicar in one of the most flood-hit areas of Worcestershire has said he is "impressed" by the community spirit shown in the village.
More than 30 homes were evacuated in Kempsey after flood defences failed.
Two pumps, designed to start automatically during flooding, failed to activate in the early hours of 25 November.
A week on, Reverend Mark Badger said the community had pulled together despite "obvious shock and anger".
Describing "a scene of total devastation", he said homes and cars had been under water.
"Nobody expected what happened to happen," he said.
"But a lot of people were taken into other people's houses, friends, family and even perfect strangers.
"I was with one couple and a lady knocked at the door and she said 'my father's house is empty, he's in a nursing home, would you like it?' They were total strangers."
Flash floods
The Environment Agency downgraded a flood warning in Kempsey earlier, for the first time in a week.
Mr Badger said people were starting the clean-up, although many of them would still be out of their homes over Christmas.
Some residents have said the village has been affected more severely than during flash floods in 2007, when more than 150 homes were damaged.
The flood defence pumps were officially unveiled in July, as part of a £1.5m project that included earth embankments and a series of sluice gates.
They were tested successfully during floods in the summer.
The scheme followed a 20-year campaign by villagers, who more recently set up the Kempsey Flood Action Group in 2009.