River Severn flood warnings downgraded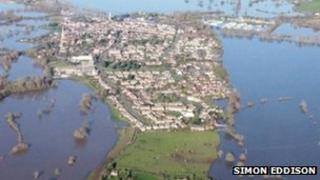 Clean-up operations have begun after floods in many areas of Worcestershire as warnings are downgraded.
In Upton-upon-Severn, Clifton, Kempsey, Callow End and Severn Stoke, Environment Agency (EA) warnings were removed for the first time in a week.
A less serious flood alert remains in place along the River Severn in the county, although levels are continuing to fall.
The Met Office forecast only light rain for the county later and for Monday.
In the village of Broadway, residents remain without safe drinking water after more than a week.
Villagers were told to boil their water on 23 November after reports of discolouration.
Severn Trent is also giving out bottles of water.