Drivers face flood road closures in Worcestershire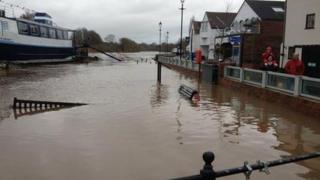 Many drivers face longer journeys in Worcestershire as some roads remain closed by flooding.
The A443 Hylton Road in Worcester and the B4035 Waterside in Evesham town centre are among the roads affected.
A number of flood warnings are in place on the rivers Severn and Avon in Worcestershire, but one for the Wye, Herefordshire, is no longer in force.
The warnings include the River Severn in Upton on Severn, which was expected to peak again on Wednesday morning.
Warnings were also put in place overnight on the River Teme at Knightwick, Bransford and Leintwardine although the Environment Agency said river levels in Herefordshire and Worcestershire are mainly beginning to fall.
A flood alert was put in place on the River Frome through Herefordshire.
Floodgates have gone up in Upton following a £4.5m flood alleviation scheme which was completed in the summer.
The extensive work was carried out after the riverside town saw flooding 78 times since 1970, according to the Environment Agency.
Ralph Thompson is landlord of the Swan Hotel, which closed for about 10 months after severe flooding in Upton in July 2007.
He said the pub and town would again be badly affected if the new defences had not been built.
"The water would be over the top of the bar, in the bar and it would be right through the building again," he said.
"Not as deep as 2007 at the moment but it certainly would have made a right mess of the place and you wouldn't be able to get in or out [of town] without them having done all that work."
Pershore Bridge, which was flooded over the weekend, has reopened to traffic, but motorists were urged to drive with care.
Across England and Wales 190 flood warnings had been in place, including 78 in the Midlands.
Much drier and colder conditions are forecast for the West Midlands region for rest of the week.