Worcestershire flooding: Businesses hit and homes evacuated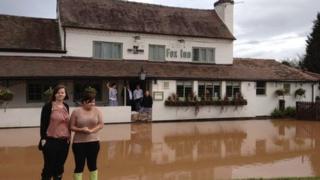 Businesses in Worcestershire have been hit by flooding after heavy rain.
Staff at The Fox Inn at Bransford have been forced to close the pub due to nearby flood water, which could get worse on Monday.
Manager Siarl Roberts said: "We're expected to be shut for two weeks, we had to turn away 200 customers on Sunday."
The Environment Agency (EA) tweeted that a number of warnings have been issued across Worcestershire.
The Rivers Frome, Avon, Severn and Teme are at risk.
People in Worcestershire have been asked by the EA to "take action" to protect their homes and make sure pets are safe.
Mr Roberts said: "It's been very distressing for our 20 staff but we're anticipating we will be hit quite harshly.
"During the previous flooding we were closed for 13 days and it's nowhere near as bad as 2007 but it's still very traumatic."
Failed pumps
About 30 houses in a Worcestershire village were evacuated in the early hours of Sunday morning after heavy rain led to flooding.
Councillor David Harrison said Kempsey had been badly hit and the situation made worse when water pumps failed.
Hereford and Worcester Fire Service rescued 28 people overnight from across Herefordshire and Worcestershire.
The fire service said 60 caravans had also flooded in Kempsey.
Wychavon District Council tweeted that sandbags are available in Droitwich (Lido Car Park), Evesham (Contact Centre) and Pershore (Civic Centre).
West Midlands Ambulance Service (WMAS) has warned people not to drive through flood water.
WMAS general manager Nathan Hudson said: "We were called out to several incidents where cars have tried to pass through flooded roads, fords, and small rivers and got stuck.
"It is quite simple - driving through flood water is inherently dangerous.
"The emergency services have had to risk difficult and often dangerous conditions in the middle of the night.
"A little bit of common sense from the public will ensure that no-one's life is put in any unnecessary danger."
Dave Throup, from the EA, said: "This is a rapidly changing situation.
"We've got another weather system moving in which could drop up to another inch of rain and any more is going to push the levels up even further."
He tweeted that six out of seven floodgates in Upton-upon-Severn had been closed, aimed at protecting 64 properties. The last gate will close later.
'Quicker than 2007'
The EA confirmed that pumps at Kempsey had failed at about 05:00 GMT on Sunday.
Kempsey resident Dan Corns said: "It is unacceptable the pumps failed - more than £1m was spent on them and somebody's got to take responsibility.
"The Environment Agency has been very good to us but we should not be building in these areas [where flooding is likely].
"Literally within 10 minutes it was rising at a rate of knots, the water has damaged all of my furniture - we had such little time."
Another resident, Michael Gill, described the rise in water levels in Kempsey as "much quicker than in the floods of 2007".
Mr Gill said: "The pumps failed on this occasion and made the flood risk much worse and six or seven houses have been very badly damaged.
Speaking on Sunday, Mr Harrison, of Malvern Hills District Council, said: "The clean-up operation in Kempsey has been going on since 3am, there's up to 2ft (60cm) of water in some areas.
"There are big problems in Church Street and the A38 is passable but still covered in flood water."
Toby Kempton, station commander of the fire service, said several residents who had been rescued were "distressed and confused".
National Rail said trains between Worcester Foregate Street and Oxford had been cancelled due to flooding.
Parts of the M50 motorway were earlier closed due to flooding, but later reopened.
Worcestershire County Council said a number of road closures were in place, including at Pershore Bridge, Eckington Bridge and Jubilee Bridge, at Fladbury.
It said access to Evesham Hospital was still possible but only via Abbey Bridge and Cheltenham Road.
Bewdley bridge has been closed by the EA.
The EA said it had put up temporary flood barriers at Beales corner, Bewdley, in Worcestershire, where the River Severn is rising and rain is expected overnight into Monday.
Temporary flood barriers are on their way to Hylton Road in Worcester and will be put up overnight, the agency said.
The road has been closed by flood water, despite new defences being built to protect it after the July 2007 flooding.