Worcestershire flooding: Eight flood warnings issued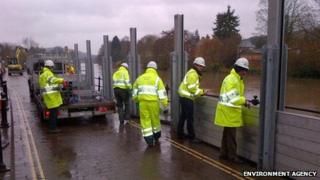 People living in parts of Worcestershire at risk of flooding should be prepared for more disruption, the Environment Agency has warned.
An eighth flood warning has been issued in the county, with parts of the Rivers Severn and Avon at risk.
Four floodgates in Upton-upon-Severn have been closed and defences have gone up up in Bewdley, the EA said.
The Met Office has forecast up to 30mm (1.1in) of rain in places.
The EA tweeted that Worcestershire is one of several areas of "great concern".
Dave Throup, from the agency, said heavy overnight rain would significantly raise the risk of flooding on Sunday.
He said the agency had been using pumps to clear water ready for the next rise in levels.
Trapped driver rescued
Flood alerts have also been issued for both Worcestershire and Herefordshire.
The floodgates at New Street in Upton-upon-Severn were closed on Friday along with three along Waterside.
The EA said the floodgates at Dunn's Lane near The Swan pub may also need to be closed over the weekend.
Waterside, in Evesham, has been closed to traffic since Thursday after the River Avon burst its banks.
Private defence barriers bought by residents in the town went up on Friday.
A spokesperson from the Northwick Hotel in Evesham said the water levels had dropped since Thursday and business had not been particularly affected.
Hereford and Worcester Fire and Rescue Service said crews had rescued a man trapped on the roof of his car in flood water near Himbleton.
In a tweet the service stressed drivers should not pass road closures.
Worcestershire County Council said a number of road closures were in place, including at Pershore Bridge, Eckington Bridge and Jubilee Bridge, at Fladbury.
Bus services have been disrupted in south Worcestershire, the council said.
Many minor roads in Herefordshire have been closed or affected by flooding, the county council said.
Wychavon District Council has distributed more than 1,000 sandbags since the flooding began.