Ash dieback disease confirmed in Worcestershire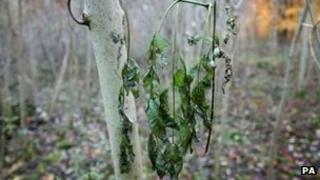 The first case of ash dieback disease has been officially confirmed in Worcestershire.
The Forestry Commission said a tree in a "newly-planted area" near Tenbury Wells was confirmed to have the disease on Wednesday.
It said two further suspected cases were being investigated in Malvern.
The fungus, known to spread quickly, attacks and kills the majority of ash trees it comes into contact with.
The government has imposed an import ban on ash trees.
There have been 222 confirmed findings of diseased trees across the UK to date.