Sgt Danny Nightingale to appeal against gun conviction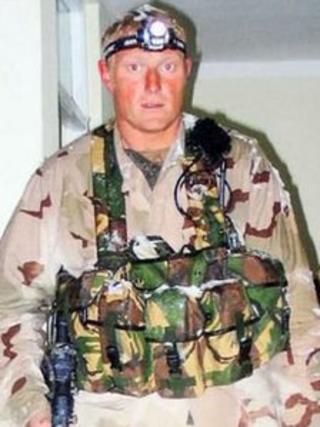 Lawyers for an SAS soldier detained for possessing a pistol which he said was given as a war gift have launched an appeal against his conviction.
The case of Sgt Danny Nightingale will be heard at the Court of Appeal in London on 29 November.
The soldier pleaded guilty to possessing the pistol, given to him by Iraqi soldiers, and live ammunition at a court martial earlier this month.
His supporters say he did not deserve to be detained for 18 months.
On Tuesday, Defence Secretary Philip Hammond said he had written to the Attorney General, asking for him to review the case.
However, Dominic Grieve quickly replied saying it would be "inappropriate" for him to intervene.
Lawyers for the soldier said the issue of the sentence handed to Nightingale would be heard by a Court Martial Appeal Court at the Court of Appeal on 29 November
They said a hearing to review the conviction would be held at a later date.
Nightingale, 37, from Crewe in Cheshire, pleaded guilty at a court martial earlier this month to illegal possession of a 9mm Glock pistol and ammunition, which were found by West Mercia Police at his Hereford accommodation.
His friends and family say the soldier did not pack the pistol himself and a brain injury he suffered on a charity race in the Amazon Basin meant he had forgotten it was still among his belongings.
Nightingale's lawyers were accompanied at the Royal Courts of Justice by his wife Sally, 38, and father, Humphrey, 64.
Mrs Nightingale said she was delighted by the news that a date had been set for the appeal and added she hoped he might be home for Christmas.
She added: "That would be the best Christmas present ever."
Thank you notes
Nightingale's lawyer Simon McKay said Lord Chief Justice, Lord Judge, had directed Wednesday's hearing and would be one of the judges hearing the appeal.
Mr McKay issued a statement from the soldier, in which he said he had been "overwhelmed" by support from members of the public and said he had written thank you notes to more than 200 people who had written to him.
The statement said: "I spoke to Sally who was very emotional but happy about the early appeal.
"I have been trained to prepare for the worst so cannot allow myself to get optimistic about how things may unfold."
He said he was "delighted" there was going to be a hearing so soon.
Humphrey Nightingale, of Linford, Hampshire, who has previously said the past few months had been "very stressful" for the family, said they "could not have asked for more".
Transcripts from the court martial showed that as well as the pistol, about 300 rounds of live ammunition were found in a box.
Former SAS soldiers, including the authors Andy McNab and Chris Ryan, Mr Hammond and Patrick Mercer MP are among those who have called for the case to be reviewed.
Nightingale's friends and family have said the father-of-two only pleaded guilty after being warned by the court martial judge he could face up to five years' detention if he was found guilty in a trial.
After his guilty plea, he was sentenced to serve 18 months at the Military Corrective Training Centre in Colchester, Essex.
Mr McKay would not go into detail when asked why Nightingale was appealing against conviction after pleading guilty.
He said lawyers would argue the guilty plea was "not a true reflection of the level of criminal culpability".
On BBC2's The Daily Politics show earlier, Mr Hammond said there was "huge public interest" in the case and said members of the armed forces had raised their concerns about it.
He added: "I had hoped that I would get some reassurance some way or the other about this, but I understand the Attorney General has responsibilities within the judicial process and he obviously had to take them very seriously."
The Shadow Attorney General Emily Thornberry also earlier accused Mr Hammond of making a "grave mistake" as it would be wrong for ministers to intervene during a judicial process.