SAS soldier Danny Nightingale case review 'inappropriate'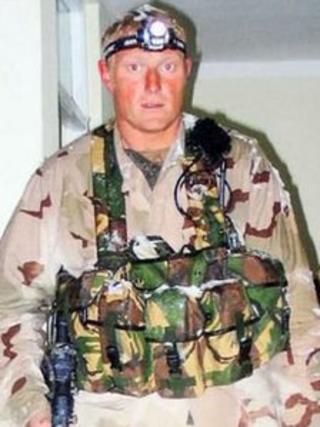 The attorney general has said it would be "inappropriate" for him to review the case of an SAS soldier jailed for possessing a "war gift" pistol.
Defence Secretary Philip Hammond wrote to Dominic Grieve, asking him to look into the case of Sgt Danny Nightingale, who was detained for 18 months.
A spokesman for Mr Grieve's office said it was a matter for the Court Martial Appeal Court.
The soldier's supporters say the sentence was too harsh.
Nightingale pleaded guilty at a court martial earlier this month to illegal possession of a 9mm Glock pistol and ammunition, which were found by West Mercia Police at his Hereford accommodation.
Friends and family say the soldier did not pack the pistol himself and a brain injury meant he had forgotten it was still among his belongings.
Transcripts shown to the BBC revealed about 300 rounds of live ammunition were also found in another box on the premises.
Former SAS soldiers, including the authors Andy McNab and Chris Ryan, and MP Patrick Mercer are among those who argue Nightingale's sentence, which he is serving at the Military Corrective Training Centre in Colchester, was too harsh.
A Ministry of Defence spokesperson said Mr Hammond had written to Mr Grieve on Tuesday morning to ask if the public interest test had been properly applied in the case.
'Just hellish'
Also on Tuesday, the soldier's wife, Sally, went to Downing Street to hand in a letter to the prime minister calling for his intervention in the case.
In a statement, a spokesperson at Downing Street said David Cameron had sympathy for Nightingale's family but added that due process had to be followed and he was not in a position to make a judgment.
MPs are due to discuss father-of-two Nightingale's case in a special debate at the House of Commons later.
BBC defence correspondent Jonathan Beale said it was understood Mr Hammond was keen for an appeal against the conviction to be heard as soon as it was lodged by Nightingale's lawyers.
Speaking after the latest development, Nightingale's father Humphrey said: "I think there are a lot of people who are too scared to do anything.
"There has to be someone at the top who can step in and do something - we will keep pressing and hopefully we will get to the bottom of this."
He said the past few months had been "very, very stressful" for his son and the rest of the family.
He added: "Where he is at the moment is just hellish.
"He has to spend 16 hours in a cell on his own, which, for someone used to living the life he does, is unbearable.
"Since he's been there he has been regressing over the brain damage. We need to get him out."
The soldier's supporters said the pistol had been given to him by Iraqi soldiers he had helped to train.
They said it had been packed by colleagues after Nightingale, from Crewe, Cheshire, had needed to leave Iraq quickly to help organise the funerals of two comrades.
They said he then suffered brain damage while on a charity race in the Amazon Basin.
'Passionate family man'
The injury led to him forgetting the pistol was still among his possessions, his friends said.
Nightingale's lawyers said he pleaded guilty to the charge after being warned by the judge in the court martial he could face five years' detention if found guilty at trial.
Speaking to the BBC earlier, Mrs Nightingale said her husband had been "strong because the public are behind him".
She added: "It's hard for him because he is an active man, he's a passionate family man - he needs to be released as soon as possible."
The soldier's solicitor Simon McKay said that although the attorney general had declined to intervene, he was glad the matter had been brought to Mr Grieve's attention.
He said they were planning to lodge an appeal on Wednesday.
So far more than 35,000 people have signed a petition calling for the case to be reviewed.
Mr McKay added he was still confident of the prospect of an appeal.
Lt Col Richard Williams, who was Nightingale's commanding officer in Iraq, told BBC Radio 4's The World At One: "The fact that the secretary of state has taken such an interest and asked the attorney general to take such an interest indicates that what we are feeling - that there has been an injustice - is being taken seriously."