Hereford Cathedral window repairs cost £4K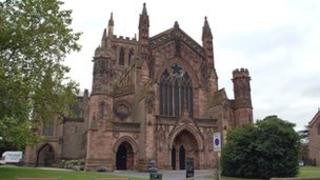 Hereford Cathedral officials have said they need to raise about £4,000 to repair some damaged window masonry.
The area below the west end window has been cordoned off for public safety after parts of it started to crumble.
Experts said it was down to the window being fixed in the 1960s by using concrete, which was now failing.
They said the soonest work could start would be in January so the cathedral would not be out of action during the Christmas period.