SAS soldier Danny Nightingale case 'needs reviewing'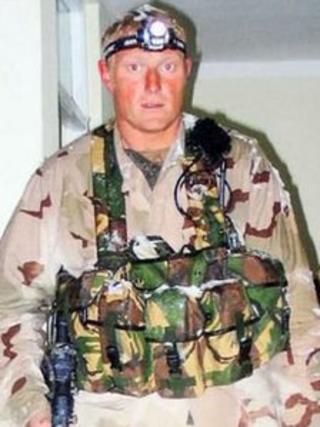 An SAS soldier detained for possessing a pistol given to him as a "war gift" by Iraqi soldiers should have his case reviewed, an MP has said.
Sgt Danny Nightingale's lawyers are appealing against the 18-month military detention sentence given to him last week after West Mercia Police found the pistol in his Hereford accommodation.
Conservative MP Patrick Mercer said the sentence seemed "very, very harsh".
A Ministry of Defence spokesman said it would be wrong to comment.
Sgt Nightingale's lawyers say the Glock pistol, which was given to him as a gift by Iraqi soldiers he had been helping to train in 2009, was not packed by him.
His former SAS commander Lt Col Richard Williams told the BBC he had needed to pull the soldier out of Iraq following the death of two close comrades to help organise the funeral arrangements, and his belongings had been packed up on his behalf by colleagues.
He said Sgt Nightingale had suffered a brain injury and that he could not remember having the pistol when it was found by police officers.
'Considerable stoicism'
Lt Col Williams said it was "very unfair" the married father-of-two had been given such an "extraordinarily severe punishment on the basis of how I understand the situation".
Mr Mercer, a former Commander of the Worcestershire and Sherwood Foresters, has raised the issue with the defence secretary.
He said he respected the court martial process but the sentence handed to the soldier was "hard to understand".
Mr Mercer added: "He received what seems to be a very, very harsh sentence."
He said he had asked the Secretary of State for Defence Philip Hammond to give him a "clear explanation" of what had happened and to "perhaps review the case".
The soldier's lawyer Simon McKay said Sgt Nightingale, from Crewe, had pleaded guilty to the charge of possessing the gun because the judge in the case had implied he would face a five-year detention if found guilty.
Mr McKay said Sgt Nightingale and his wife Sally were a "classic British Army family" and Mrs Nightingale had been "acting with considerable stoicism" while he had been "acting with the courage you would expect from a member of his regiment".
However, he added: "It's a very difficult time for their two young children who are particularly distressed that dad's not back home."
Sgt Nightingale's father Humphrey said his son's belongings had been kept locked away for at least a year, during which time he had suffered "severe brain damage" which affected his memory.
He said the case had "badly, badly affected" the family.
In a statement, the MoD said: "We do not ordinarily comment on UK Special Forces and see no reason to change our policy on this occasion.
"It would be wrong to comment on this courts martial case, its findings, convictions or sentences of the court which may be subject to appeal."