Evesham's Abbey Bridge replacement scheme gets approval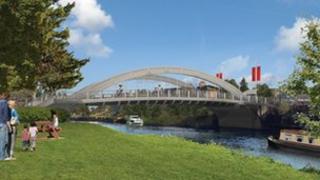 An £8m scheme to replace a Worcestershire bridge has been given final approval by Local Transport Minister Norman Baker.
Abbey Bridge in Evesham is in poor condition and currently has a 7.5 tonne weight restriction.
Mr Baker said the new bridge would restore an "important route" and provide "a boost to the local economy".
Construction is expected to take 10 weeks and the new bridge is scheduled to open in December 2013.
The Department of Transport will provide a maximum of £5.59m towards the full scheme cost of £8.2m. The rest of the money will come from the county council.
Chairman of the Vale of Evesham Commerce and Tourism Association Tony Rowland said any disruption to traffic flow in the town would have an impact on businesses.
The county council has announced a package of measures to minimise the affect of the closure including extensive signage around the area and an investment of £200,000 to help promote the town, reduce car parking charges and help businesses.
A loyalty card designed to boost trade in the town has also been launched.