Olympic hero Ernie Payne's bike on display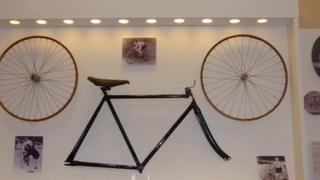 A bicycle which belonged to a Worcester cyclist has gone on display more than 100 years after his Olympic triumph.
Eric Payne was part of the team which took gold in the 400m cycling pursuit in the London Olympics of 1908.
Worcester City Art Gallery and Museum said it was very proud to exhibit the bicycle frame which belonged to the city's "first Olympic hero".
The team, including Payne, came in 10 seconds ahead of silver medallists Germany, the museum said.
Payne, who died in 1961, had followed his brother Walter into Worcester St John's Cycling Club and soon started winning races.
Born on London Road, Worcester, in December 1884, Payne won 13 of his 14 track events in his first season.
Until recently, the bicycle had been on show at Llangollen Motor Museum.
But it had been the last wishes of the late Gerry Hughes, president of the cycling club, that the bike should be returned to Worcester, the museum said.
Iain Rutherford, manager of Museums Worcestershire, said: "It is very fitting that Ernie Payne's bicycle should come home to Worcester in this memorable Olympic year.
"Ernie was a true Worcester hero and it's great to be able to help people remember his triumphs and find out a bit more about Ernie and his winning bicycle."
The bicycle, which is displayed with photos, is expected to be on display at the Foregate Street premises until at least Christmas, a museum spokesman said.