Worcestershire honours Canadian airmen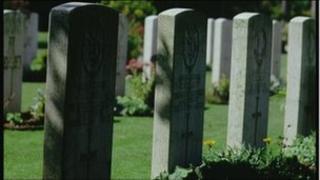 A memorial service has been held in Worcestershire for Canadian airmen.
The service was held at Rowney Green to commemorate a crew who were killed in a plane crash on 9 November 1943.
Among those who attended was Charles Baker, a nephew of Canadian airman Sgt Alton O'Neil, who died when his Wellington bomber crashed in Pershore.
It was the first time Mr Baker had visited the crash scene. He praised the way the town honoured the servicemen.
He said: "I think its fabulous, the cemetery is remarkable, its touching. The folks at Rowney Green did a wonderful service."
In 1943, an engine failure caused a plane, returning to RAF Pershore, to stall and nose-dive. Five members of the Royal Canadian Air Force were killed.
A Remembrance service was also held in Pershore, where the War Grave Commission looks after 74 graves, some belonging to members of the Canadian Airforce.