April Jones Facebook posts: Sam Busby given suspended sentence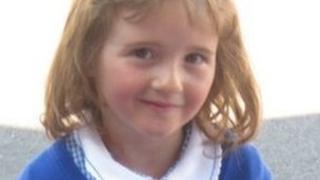 A man who posted offensive comments on Facebook about missing five-year-old April Jones has been given a six-week suspended jail sentence.
Sam Busby, 18, of Macintyre Road, Worcester, admitted sending a grossly offensive public electronic communication.
Worcester Magistrates' Court also ordered him to carry out 200 hours of unpaid work and gave him a curfew.
Busby told the BBC his postings were "a stupid thing to do".
The court heard he deleted his Facebook page shortly after posting the sexually explicit comments in October.
'Deeply ashamed'
The chair of the magistrates bench said his actions could have caused "an immense amount of distress" to April's family at a very sensitive time.
She was last seen in a street near her home in Machynlleth, Powys, on 1 October.
Mark Bridger, 46, has been charged with her murder.
The prosecution told the court that Busby's Facebook page could be viewed by anyone.
The defence said he had not been aware of that, adding that he had made a mistake and was "deeply ashamed of his actions".
Speaking to the BBC, Busby said: "I now realise what I said wasn't funny and it was a stupid thing to do - I would like to apologise to anyone I've offended."
He said his sentence was "fair" as other people have gone to prison for sending offensive messages about April.
The court put him under a curfew between 19:00 and 07:00 GMT for eight weeks.
His prison sentence was suspended for 18 months.
'Warned by friends'
Prosecutor Kerry Lovegrove told the court Busby's initial post on Facebook was a "joke" about April obtained from another website.
The court heard that although other Facebook users urged Busby to stop writing inappropriate comments, he went on to make other claims about April, prompting a woman who has two young daughters to contact West Mercia Police.
After his arrest the 18-year-old admitted he was responsible for the comments and told officers he thought they could only be seen by his friends on Facebook, the court heard.
Defence solicitor Belinda Arris said Busby was now likely to lose his job and no longer engages in any social networking.
Chairman of the bench Gill Porter told Busby: "You were warned by your friends when they first saw your so-called joke, but you took no notice and you continued to make further even more offensive comments."
Magistrates said they had taken into account Busby's early guilty plea and remorse when sentencing him.