Worcester mini helicopter used in Chilean river survey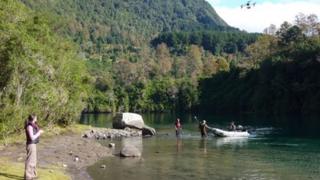 A mini helicopter has been used by researchers from Worcester to examine the threat to rare fish species posed by a dam on a Chilean river.
The University of Worcester used its Draganflyer unmanned aerial system (UAS) on the San Pedro river to take hundreds of images of an important shallow habitat on the margin of the river.
The images have been used to produce a 3D map and detailed aerial image mosaic of the river.
The area is home to native fish species which could be threatened by plans to build a major hydroelectric power dam.
'Minimise impact'
The work was carried out by PhD student Amy Woodget and Dr Ian Maddock, principal lecturer in physical geography at the University of Worcester.
Dr Maddock said they are working with the University of Concepcion in Chile to assess what will happen to the river if the dam is built.
"Obviously putting a dam into a river has major impacts on the flow and subsequently the habitats and species.
"We can provide information to the dam contractors so that they can minimise the impact on the habitat of the fish," he said.
The team spent five days in Chile and took about 400 pictures of the river.
Dr Maddock said these were initially "stitched together" on a computer to create a mosaic of the area being studied.
The university then used special software to turn the mosaic into a 3D map.
Professor Habit Evelyn Habit, from the University of Concepcion, said the images from the Draganflyer UAS showed the river in "an extraordinarily high level of detail".
"This allows us to better understand the habitat availability for our native fish species," he said.