US operation gives Molly Grove 'normal leg movement'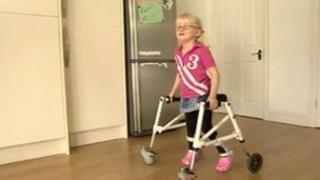 The father of a three-year-old Worcestershire girl who was flown to the US for an operation to help her walk said the results were "amazing".
Molly Grove, from Broadway, has spastic diplegia cerebral palsy which caused a painful tightening in her legs.
More than £64,000 was raised for the £50,000 operation at the St Louis Children's Hospital in Missouri and two years of physiotherapy.
Richard Grove said Molly was able to straighten her legs for the first time.
Previously Molly's condition meant she was only able to walk with the help of a frame.
Mr Grove said: "Now all her tight muscles have been released and Molly's got normal movement in her legs.
"She walks flat on her feet and not on her tip toes - it's amazing."
'New opportunities'
He added she would need daily physiotherapy sessions for the first year after the operation followed by five sessions a week for the second year.
Molly suffered brain damage caused by lack of oxygen at birth which means her muscles get over stimulated, Mr Grove said.
The three-hour operation last month severed the nerves responsible for over-stimulating those muscles.
Mr Grove said: "It's brilliant. The support we had from everyone for the money to enable this was overwhelming.
"Molly's very happy and excited and even woke up the other night asking to go walking, she recognises her new opportunities."
He said Molly and her mother were due to arrive back in the UK on Monday.