Charity founder uses savings to keep organisation going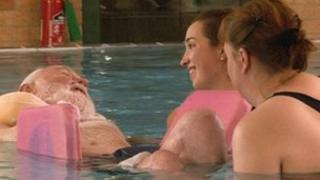 Problems getting grants have led the founder of a new charity to use her savings to keep the service going.
Katt Wood, a physiotherapist, set up the reActive Foundation to help people in Worcestershire who have had strokes and other brain injuries.
She said banks and trusts are unwilling to give grants or loans because the foundation is less than a year old.
Ms Wood said: "You need the money to get started but we can't get the money because we are starting from nothing."
She co-founded the organisation with Richard Wood (no relation), who had a stroke two years after he rowed solo across the Atlantic in 2004.
The foundation, which was set up in May, uses facilities at the University of Worcester's McClelland Centre for the therapy it carries out.
It offers patients hydrotherapy in a heated pool and physiotherapy supported gym sessions.
Financial records
Mr Wood said: "I've had the opportunity through a lot of physiotherapy and help to live independently, which I can do now, and I felt I'd just like to use some of my experience to enable others to do the same."
He said the foundation gives people "hope when everything else has failed".
Ms Wood has so far put in about £2,000 of her own money to keep the foundation going.
She is prepared to write off what she has put in so far, but is frustrated that she has been unable to get help from charitable trusts and banks.
"Because we are a new charity we don't have financial records that companies like.
"If we made a grant request they would want proof that we are not going to fold all of a sudden or run off with the money," she said.
The reActive Foundation is currently operating as a limited company with charitable objectives.
It sent off the documentation to have its status confirmed by the Charities Commission this week.
A spokesperson for the commission said 30 days is the average time it takes them to register a new charity.