Hereford to Malvern rail line is 'safe' despite disruptions by new hole appearing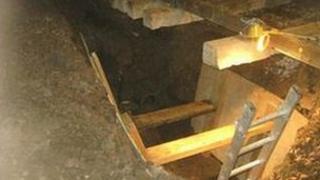 A railway track has been called "safe" by Network Rail, despite a hole appearing underneath it.
Trains between Great Malvern and Hereford were disrupted for the third time in six months after a hole appeared under the track on Thursday.
John Baker of Network Rail said "further remedial work" will be carried out in the future, but trains are running now at normal line speed.
He said the hole at Colwall, Malvern was due to a collapsed drainage pipe.
Mr Baker said: "Last night the problem wasn't as bad as it had been before, but it's in the same place.
"It's safe, unless it falls in again… You can't predict these things."
He said that future work would be done overnight and possibly at weekends to save disrupting rail services.
A collapsed pipe caused a "very deep hole" at Colwall in September. In June heavy rain caused another hole there.
on Thursday night, engineers carried out remedial work on the line where the ballast had gone and continued to assess the damage.
Network Rail is waiting for survey results to find out when further work can be carried out.