Farmers warned over mud after Herefordshire crashes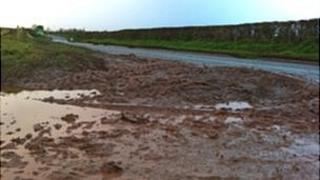 Farmers are being warned they will be prosecuted if they leave mud on the roads after three accidents in Herefordshire.
West Mercia Police had to close three A roads on Wednesday after crashes which the force said were caused by mud.
They included a collision between an Army Land Rover and a car on the A465 near Wormbridge in which a female soldier suffered serious neck injuries.
The force said it would patrol roads looking for farm vehicles dropping mud.
The warning came as police urged motorists across Herefordshire, Shropshire, Warwickshire and Worcestershire to be wary of mud on the roads.
In other incidents a car ended up on its roof in Clehonger as a mother drove her children to school, although no-one was hurt, the force said.
Police also shut the A417 at Burley Gate after a car was involved in a minor collision at 17:15 GMT on Wednesday.
Police said a tractor even lost its grip while driving along the road and officers found it dangerous to walk on.
The force also closed the A4103 Hereford to Worcester road for short time near the Newtown Crossroads due to mud on the highway.
Ch Insp Adam Thomas said the force was receiving "dozens of calls" about hazardous driving conditions caused by mud on the roads.
He said: "I am worried that someone could be killed.
"While some farmers take steps to make sure they keep the roads clear and safe, not all are as diligent.
'Exceptional wet weather'
"Therefore we are taking a tough stance on the issue: response officers are patrolling looking for problems and they will not hesitate in taking action against anyone they believe is being irresponsible and reckless."
The National Farmers Union (NFU) said it had been working with the Safer Roads Partnership to encourage farmers to be more responsible and clean up the roads.
Sarah Telford from the NFU said: "This year we've had exceptional wet weather and it's caused many fields to be more muddy than usual.
"We're urging farmers to travel slowly along roads so that mud doesn't drop off tractors, and cleaning tractors before they come on to the roads, but we know that can be extremely difficult at times."
The Safer Roads Partnership urged any motorists that see a "mud on road" sign to take it seriously.
Anna Higgins, from the partnership, said: "Drive with caution and treat this the same way that you would with ice or slippery roads."