Herefordshire Council's £500K payment waived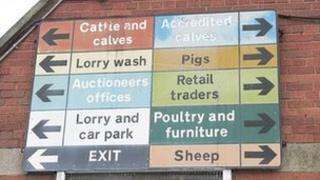 A total of £500,000 which Herefordshire Council was set to benefit from in a new shopping development will be waived to ensure the work goes ahead.
Cabinet members agreed to waive £500,000 from the total of £1.5m that developer Stanhope would have given once the £800m revamp of Hereford's former livestock market was finished.
Council leader John Jarvis said extra costs had arisen and all the parties involved had "made concessions".
The development is due to open in 2014.
The £800m plans for the former livestock market were approved a year ago and are expected to include a new shopping centre, a Waitrose store, a multi-storey car park, a six-screen cinema and restaurant complex.
Stanhope is now due to give a total of £1m to the council at the end of the project.
The authority has given money towards the development, but says it expects to receive £1.25m in business rates a year once the project is completed in 18 months' time.
'Major milestone'
The latest decision was made at an emergency cabinet meeting about the development on Wednesday morning.
Mr Jarvis said all three parties were locked into the development, which was a "major milestone for the project".
He added: "We all negotiated very hard and I believe we have managed to deliver a really good deal for the city and the county."
Mr Jarvis said the council would also own the development's car park and would keep the revenue from any parking fees.
Alistair Shaw, from Stanhope, said he was "delighted" with the cabinet's decision.
He added: "The commitment being shown in Hereford, and in agreeing this landmark deal, is exciting for all parties and for the residents and businesses of the city."
Opposition councillors said they needed to ensure the developers would not come back and ask for more money in the future.
Alan Seldon, the chairman of the overview and scrutiny committee, said: "My job now is to make sure that the procedures that should've been followed have been followed, and that if there are risks, they've been mitigated against.
"[We need to make sure] the public purse is as secure as possible."
The development has proved controversial with some existing retailers in the city.
Earlier this month, traders based in Hereford's historic High Town area said they feared the new development, on the other side of the ring road to them, could split the city in two.