Hospital trust reduces £21m government loan request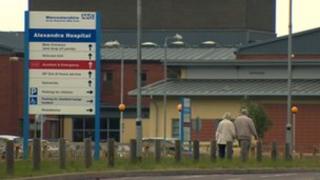 A hospital trust has reduced a £21m loan it asked for from the Department of Health (DoH) following government advice.
Worcestershire Acute Hospitals NHS Trust originally applied to borrow the money in July to help deal with its £18m debt and current running costs.
The government had said the loan could put the trust over its borrowing limit.
The trust said it had revised its application to borrow £9m which the DoH will make a decision on in December.
It said it had reviewed its requirements before re-submitting its loan request for the reduced amount.
A meeting of the trust board on Wednesday heard it was on course to "deliver a small surplus by the end of the financial year.
"Finance director Chris Tidman said that "robust measures" had reduced the current rate of spending.
He said: "Like every other NHS organisation we are operating in a challenging financial environment and we must redesign services that are both financially and clinically viable."
The trust is currently carrying out a review into plans to reform hospital care, looking at services at the Worcestershire Royal, the Kidderminster and Alexandra Hospitals in Redditch.
The proposals include the possible closure of the accident and emergency (A&E) and maternity units at the Alexandra Hospital.
More than 50,000 people signed a petition against the plans and in July, 150 people staged a rally to protest against them.
The trust said it needed to save £50m by 2015, blaming the rising cost of drugs and people living longer.