Border terrier dog rescued from Alvechurch badger sett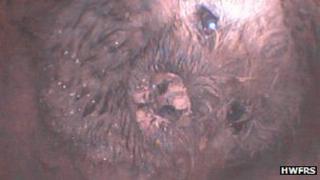 A dog has been rescued by firefighters after being trapped for four days in a badger sett in Worcestershire.
Boh, a 23-month-old border terrier, got stuck in the tunnel near Foxhill Lane, Alvechurch, after chasing a rabbit.
The local fire service used seismic and acoustic equipment as well as a camera to locate the dog who was found about 4ft (1.2m) underground on Wednesday.
Boh was eventually dug out and is expected to recover from the ordeal, a fire service spokesman said.
Hereford & Worcester Fire and Rescue Service said representatives from the RSPCA and English Heritage were present and granted permission to disturb the sett.
The farmer who owns Boh was walking him with three other dogs on Sunday. When he realised the dog was missing, he expected him to come home on his own, the fire service said.
When he did not return, the farmer searched for him on Monday and realised he must have gone into one of the badger setts in the area.
English Heritage had to give permission for the sett to be disturbed before the search and rescue efforts began.
'10ft-long tunnel'
Phil Ball, a crew commander for the service, said: "Using an acoustic listening probe, we could hear the sound of heavy breathing which we were pretty sure was an animal in distress, rather than simply a badger inside its sett.
"We then used a 'snake eye' camera and we were able to locate the dog in a 10ft-long tunnel around 4ft below the ground.
"It would seem that the dog...had become trapped in the sett with the rabbit wedged in its mouth.
"This had made it impossible for the dog to breathe through its mouth and so had been struggling to breathe through its nose, hence the laboured breathing we could hear with our detection equipment."
Mr Ball added that Boh was hungry and dehydrated and has since been seen by a vet who administered fluids and antibiotics to deal with an eye infection.