Worcestershire Roman coin hoard appeal short of target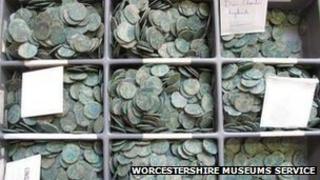 An appeal to raise £40,000 to buy a Roman coin hoard uncovered in Worcestershire has so far raised only a quarter of its target.
Metal detector enthusiasts found the 3,800 coins, dating back to the 3rd Century, at Bredon Hill, near Evesham.
Worcestershire County Council fear the hoard could be broken up and sold if it fails to raise the money to buy it by the end of November.
Councillor John Campion said this would be "an absolute travesty".
The hoard was declared to be treasure in October and is currently held in the British Museum in London.
Mr Campion said: "We need to push on to make sure that we can not only buy them but also display them."
Clay pot
Eleanor Ghey, project co-ordinator at the museum, said it was "very interesting" that the hoard was found in Worcestershire.
"At the time the Roman Empire was contracting and there wasn't very much going on in the area, so we don't find coin hoards very often," she said.
Metal detector enthusiasts Jethro Carpenter and Mark Gilmore discovered the hoard buried in a clay pot in June last year.
The coins are mainly bronze, with some silver content, and feature 16 different emperors, spanning 38 years.
The coins represent the largest hoard of Roman artefacts ever found in Worcestershire.