Tenbury Wells trade recovers after bridge closure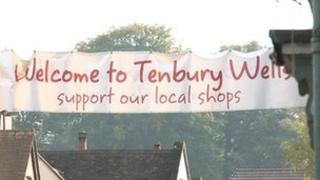 Social media, workshops and business advisers have all helped a Worcestershire town recover its trade, its chamber of commerce said.
Tenbury Wells was hit by severe flooding in 2007 and then by the bridge, a main route into town, closing for weeks of repairs early this year.
The chamber launched a scheme, Open for Business, six months ago.
It estimates £630,000 of business has been brought into the town since the scheme began.
Councillor Phil Grove, from Malvern Hills District Council, said about 30% of shoppers in Tenbury Wells were from elsewhere and added the Open for Business scheme was responsible for keeping shoppers visiting the town.