Kidderminster Harriers' pies the most expensive in the UK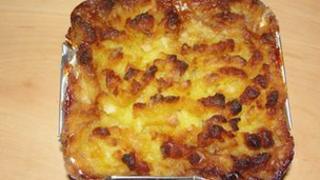 The pies on sale at a non-league football club are the most expensive in the country, according to a BBC survey.
Blue Square Bet Premier Kidderminster Harriers' pies cost £4, according to the BBC Sport Price of Football survey.
The club's catering manager, Brian Murdoch, said their cottage pies cost more because they are made of meat, vegetables and potatoes rather than the usual pastry pie sold at other grounds.
Fan Steve Ellis said they were "by far the tastiest" in any league ground.
Mr Ellis said: "Most grounds sell pies which are mass produced and tasteless, unlike Brian's pies which are homemade and good value."
Cheapest day out
Pies on sale at Arsenal's Emirates stadium cost £3.30 and those at Manchester City's Etihad ground are £3.50, the survey shows.
John Davies, another regular at Harriers' Aggborough ground, said their pies are good value for money as they are "more like a dinner".
Mr Murdoch said away fans often ring the club to ask if they still have the pies.
He said the pie is served in a foil dish and weighs 1lb 8oz (700g).
The cheapest pies, costing £1, were sold at Scottish clubs Alloa, Albion and Forfar, according to BBC Sport's research.
The survey looked at 166 clubs in 10 divisions across British football, including the Conference Premier and Women's Super League.
It looked at the most expensive, and cheapest, season tickets and adult matchday tickets as well as the cost of a cup of tea, a pie and a programme, to calculate the cheapest day out at a football match.