Molly Grove, 3, flies to US for operation to help her walk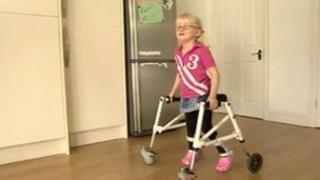 A three-year-old Worcestershire girl has been flown to the US for an operation to help her walk unaided.
Molly Grove, from Broadway, has spastic diplegia cerebral palsy which causes a painful tightening in her legs.
A funding appeal raised more than £64,000 for the operation at the St Louis Children's Hospital in Missouri and for physiotherapy afterwards.
Deanna Walter, from the hospital, said the operation was expected to take between two and three hours.
She said: "The doctor will go in and essentially cut the nerves that are responsible for the signal causing the muscles to become stiff especially with movement."
Her condition means that Molly is only able to walk with the help of a frame.
Her family will stay at the hospital for three weeks after Wednesday's operation, so that she can receive daily physiotherapy.