St Martin's Quarter plans in Lowesmoor 'on track'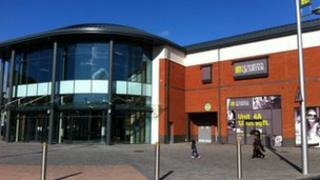 Developers have rejected concerns over a £75m shopping centre in Worcester where only one businesses has moved in since opening six months ago.
Asda was the first store to open in St Martin's Quarter, Lowesmoor, in March.
Selwyn Rowley from Carillion Richardson said more than half of the 20 units on the site were due to be filled.
Lynn Denham, Labour councillor for the Cathedral Ward, said: "We were promised a vibrant extension of the city centre and that isn't materialising."
She added: "What we don't want is duplication of shops we've already got in the town."
Increased footfall hopes
Mr Rowley said the site had not yet been completed.
He said: "We see this as a busy day and night centre and negotiations are ongoing.
"Around half the units are already committed which is very positive before it's been finished."
Mr Rowley said a gym was due to open in one of the units on Monday.
The sales manager of The Bedroom Centre next to the site said staff were expecting the new centre to attract more shoppers.
He said: "We were hoping for up to 15% more footfall but an absence of more shops has not made any difference to our turnover, thankfully."
One shopper, John Lester, 77, who lives in St John's said it was disappointing but not surprising.
He said: "Given time it will be a vast improvement to the area. It's worth waiting for whatever shops or restaurants are due to open but I would have expected to see them by now."