Worcestershire's three threatened hospitals 'to stay open'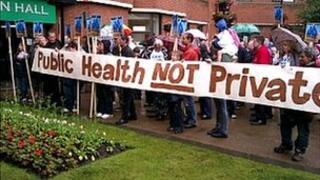 The threat to close one of three hospitals in Worcestershire has been lifted, NHS managers have said.
Worcestershire Acute Hospitals Trust considered closing the Worcestershire Royal, the Kidderminster or Alexandra Hospitals in Redditch to save £50m.
Other plans included shutting the A&E and maternity units at the Alexandra.
At a meeting on Thursday the trust said it still could not guarantee which services would be protected.
"We are looking to maintain the fullest rate of services that we possibly can - but there is no plan to close any hospitals," said Eamonn Kelly, Chief Executive of NHS Worcestershire.
"We have further work to do, to look at how much of the local services we can maintain on each of those sites.
"We've been very clear in identifying a lot of that work does focus around how much of the current service we can maintain on the Redditch site."
'Cautious welcome'
Mr Kelly said that NHS Worcestershire was talking to other health providers with regard to them possible running some of the counties services.
"We're looking to see whether joint working might provide a more sustainable position," he said.
More than 50,000 people signed a petition against proposals for the Alexandra Hospital.
In July, about 150 people joined a rally to protest against the potential closure of the A&E unit at Redditch.
Neil Stote, of Save the Alex campaign, gave the trust's announcement "a cautious welcome."
"Obviously we'd like a lot more detail and I'm sure the staff would as well because A&E and maternity have been at risk for coming up to six months," he said.
"They need to be more definite about what they're talking about providing, who're they're looking at to provide it and how it's going to work.
"I think this is recognition of what our campaign has been saying - there just wouldn't be the capacity for the Worcester Royal to be the hub hospital for the county."
The trust said it needed to save £50m by 2015, blaming the rising cost of drugs and people living longer.