Lingen bridge closure an 'absolute nightmare'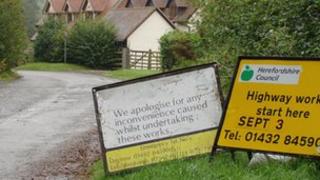 People living in a Herefordshire village say it has been split in two after flooding forced the closure of a road bridge.
The bridge connecting Lingen to Deerfold is being replaced by Herefordshire Council.
Residents living on one side of the village say they are having to make a 20-mile detour to access the other.
Farmer Steve Deakin said it had cost him £2,000 and described it as "an absolute nightmare".
He said: "We're having to do 15-mile detours to move heavy machinery to get the wheat cut.
"We've had to employ extra staff and extra equipment and that's all cost extra, round about £2,000 I would say."
Herefordshire Council said a diversion had been put in place and engineers were working to replace the bridge as quickly as possibly.
It added it would take 15 weeks and work on designing the new bridge had begun in July after floods hit the area.