Australian huntsman spider found in Hay-on-Wye cafe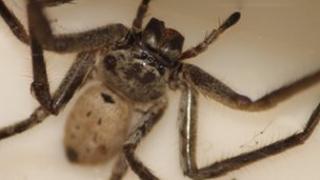 A large spider which is native to Australia has been found at a cafe in Hay-on-Wye.
Sian Ward, whose aunts own The Granary in the centre of the border town, captured the huntsman spider which measures up to 4ins (10cm) in length.
She said: "There was a customer in the cafe visiting from Australia and we think the spider must have been in his luggage or wrapped up in his coat."
The spider is to be taken to the West Midlands Safari Park.
Jamie Wood from the park said the huntsman was not considered dangerous but it could deliver a "nasty bite".
"It would most definitely hurt, there would be a lot of pain and some swelling and some people might even feel a bit sick, but in general these spiders are passive," he said.
'No normal spider'
Mrs Ward said she was not worried when her aunts asked her to get rid of the spider.
"They always ask me to deal with spiders in the shop; they said this one was a bit big but I thought they were just exaggerating," she said.
"When I saw it I realised it wasn't any normal old spider.
"Some of the customers wanted to stamp on it, but I got a plastic tub, got my Dad to knock it off the wall, put the lid on and took it to the vets."
The Hay Veterinary Group identified the spider and notified West Midlands Safari Park.
Mrs Ward nicknamed the spider Cyril, and the safari park said it would keep the name even though it believed the spider was female.
Hay, on the Powys-Herefordshire border, is famous for its bookshops and annual literary festival.