Worcester town clerk Bertram Webster's war medals to go on show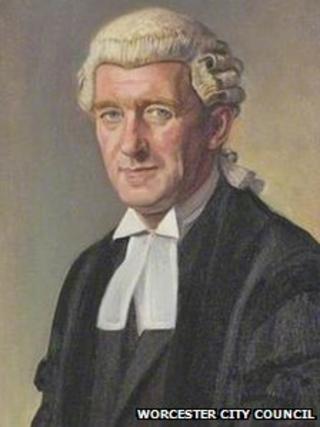 World War II medals awarded to a former town clerk are to go on show this month after a council bought them for about £2,000 at an auction.
The nine medals, including the Military Cross for gallantry, were awarded to Bertram Webster, Worcester's town clerk from 1949 to 1978, who died in 1988.
They will be unveiled near his portrait in the Guildhall on 25 October.
Worcester City Council said the role was the equivalent of a council chief executive or managing director today.
'Very popular'
It said the medals were bought in an auction by Suffolk-based Lockdales Auction House on 19 May "to create a permanent tribute to Mr Webster".
He was awarded the Military Cross while serving as a major in the Royal Artillery in Italy but refused to recount the incident that led to the medal, the council said.
The authority said he was made an OBE in the Queen's Birthday Honours in 1975 "for his long and distinguished service to local government".
Mayor of Worcester Roger Berry, who will officially unveil the medals from 14:15 BST on 25 October, said Mr Webster was "very popular both with colleagues and members of the public".
The mayor added: "He was a great lover of tradition and cited 14 royal visits to Worcester and the Freedom [of Worcester] ceremony for [Sir] Winston Churchill [on 20 May 1950] amongst the highlights of his career."
Mr Webster's portrait by local artist E Waldron West was presented to the city for public viewing in 1988 by his children Peter and Peggy following his death at the age of 73.