Worcestershire hospitals face recruitment problems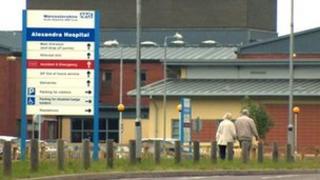 Hospitals in Worcestershire are struggling to fill doctors' posts, according to NHS bosses in the county.
The trust, which manages the county's three main hospitals said almost one in five middle grade posts were unfilled.
A review is currently under way into centralising services, which the trust said would make it easier to attract the best doctors.
The Save The Alex group said it was important hospitals "sold themselves better" to prospective staff.
The campaign group was set up to safeguard services at Redditch's Alexandra Hospital, including A&E and maternity.
It recently handed over a 53,000-signature petition to NHS Worcestershire against cuts being considered under the review.
Higher costs
Worcestershire Acute Hospitals NHS Trust said some departments faced particular recruitment problems.
Shortages in children's services across the trust mean as mean as many as half the middle grade doctors currently working in the department are agency staff, according to the trust.
It added that locum doctors cost the trust up to three times more than salaried staff and that the quality of care could be more variable.
Worcestershire Acute Hospitals NHS Trust is currently looking to find £50m savings by 2015.
Centralising some services, possibly at the Worcestershire Royal Hospital, would allow staff to specialise, improving quality, and making the jobs more attractive to prospective doctors, according to the trust.
Dr Andrew Short, head of paediatrics at Worcestershire Royal Hospital, said: "The problem we face is we are struggling to employ enough experienced doctors who are able to deal with any emergency that comes through the door."
He said the biggest issue was in recruiting middle-grade doctors, which he described as "the backbone of any hospital when it comes to emergency services".
The hospitals trust also faces a problem recruiting consultants, with one in 10 posts currently unfilled.
Neil Stote, from the Save The Alex campaign group, said recruitment problems were also partly due to a national shortage of middle grade doctors.