Betty Yates: Murder victim 'planned Bewdley move'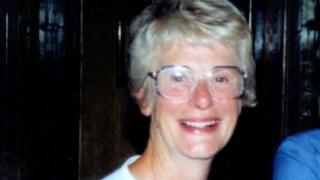 "When I last saw Betty she said she was thinking about moving, being so far out of town was getting to her."
Keith Wakefield, 58, is a former colleague of 77-year-old Betty Yates who was found stabbed at her remote home near Bewdley, Worcestershire, in January.
The retired teacher, who had worked at the then St. John's Middle School in Kidderminster, lived in a cottage by the River Severn near Dowles Road just outside the town.
Stephen Farrow, 48, has been convicted of the murder of Mrs Yates in Bewdley as well as that of the Rev John Suddards in Thornbury, South Gloucestershire.
Mr Wakefield, who knew Mrs Yates for 25 years, said: "I didn't keep in touch with Betty like I should have done but I know she was involved in so many things in Bewdley after her retirement.
"When her husband Ray died [seven years ago] not long after she retired, she'd wanted to stay in their home to keep the memories alive.
"But I saw her the June before her murder and she said she'd thought about moving to be nearer to the things she was involved with in the town."
Mr Wakefield, a maths teacher and head of the lower school at Baxter College, as St. John's is now called, said Mrs Yates was "fantastic".
He said: "I'd moved to the area from the Welsh Valleys for my first teaching post and and she was like another mother to me.
"She was very outspoken - she called a spade a spade - and didn't stand for any nonsense, but everybody respected her and she threw herself into everything."
Dr Jan Adams, Bewdley's mayor at the time, said she had also heard of Mrs Yates's plans to move.
'Very much missed'
Ms Adams said: "Betty was very well known and I'd heard she was beginning to feel it might have been sensible to move, which really makes what happened even sadder.
"She felt she was getting a bit old and needed to be able to access the services in the town more easily.
"She's still very much missed and her death was a tremendous shock."
Mrs Yates was a very active person who attended civic society meetings, the University of the Third Age and regularly went walking.
She also volunteered at the annual Bewdley Festival.
Marketing officer Carole Swingler said she had helped with front of house and distributed programme flyers around the town.
Mrs Swingler said: "I wouldn't describe myself as a close friend as such but I knew her to speak to.
"I also remember she was a very good swimmer and gave me a huge amount of encouragement when I was learning to swim at the age of 50.
"That's just what she was like - so helpful and outgoing.
"The effect on Bewdley was tremendous, we couldn't believe anything like that would happen to Betty."
Staff at the Merchants Tea Room, nestled on the riverside at the foot of the town's bridge, agree.
Assistant manager Jackie Salmon said Mrs Yates had first gone into the cafe three years ago when they started up a monthly group for people with coeliac disease.
She said: "We were interviewed a lot by the police after her murder, they reckoned this was possibly the last place she went into.
"It was New Year's Day, she'd been to the chip shop and popped in to wish us 'happy new year' and off she went."
Ms Salmon and her colleague Mandi Blakemore said the murder of Mrs Yates had frightened older members of the community.
Ms Blakemore said: "We definitely noticed a drop in customers until around Easter, we're open until eight in the evening and they said they worried about going out after a certain time in the dark.
"Even now people ask about it, it was the talk of the town for months."
Ms Salmon added: "Once something's happened people don't forget it - not here."