Worcester racecourse meeting cancelled after flooding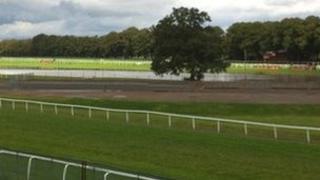 A race meeting due to take place at Worcester Racecourse has been cancelled due to a waterlogged track, staff say.
An inspection earlier showed areas of the track had not recovered so Friday's meet has been called off.
Clerk of the course Fergus Cameron said: "Although it was mainly dry on Wednesday, the level of the River Severn has risen and there isn't time for the track to recover."
The Environment Agency had issued a flood alert for the River Severn.
All warnings in Worcestershire and Herefordshire have been lifted.