Alexandra Hospital A&E petition attracts 53,000 signatures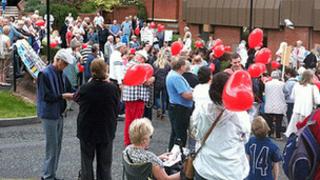 A 53,000-signature petition, against plans to close the A&E unit at Redditch's Alexandra Hospital has been presented to NHS Worcestershire.
The hospital trust announced in June it could downgrade accident and emergency as part of plans to save £50m by 2015.
The Save the Alex campaign group presented the petition to NHS Worcestershire Chief Executive, Eamonn Kelly, at a meeting on Wednesday.
Chair of the group, Neal Stote, said it "sent a clear message to the trust".
"It shows that users of the Alexandra Hospital do not agree with their plans for future health care," he said.
"The fact they have already been forced to delay their short list of options shows they are under pressure to scrap their proposals."
'Loud and clear'
A joint review into the future of acute hospital services by the Worcestershire Acute Hospitals NHS Trust and NHS Worcestershire was delayed earlier this month.
Managers said they needed to look more closely at the implications of possible closures.
The initial proposals suggested closing maternity services at the Alexandra Hospital and downgrading the A&E unit to a minor injuries centre, similar to one currently operating in Kidderminster.
Mr Kelly said: "No decisions have yet been made, there are a number of different clinical models we are looking at.
"What local people have said to us is they're worried about access and we hear that message loud and clear.
"As we move forward we have to get that balance between providing the best possible clinical services, local access, and being able to deliver against the productivity challenges."
The Unison union said it was giving its backing to the Save the Alex campaign because it believed the plans could have "disastrous consequences."
Steve Akers from the union said: "Patients who are in need of emergency care and expectant mothers could face travelling up to 20 miles to Worcester or out of the county to another hospital for treatment."