New Worcestershire flood defences 'working well'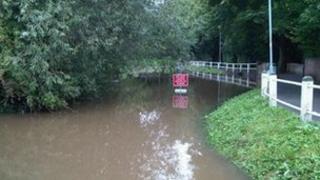 New flood defences in Worcestershire are working well, the Environment Agency (EA) has said.
Defences, including flood gates and high-volume pumps, were officially opened in Kempsey in July.
Dave Throup, from the EA, said the pumps were performing well and were capable of removing 4.2 tonnes of water a second.
The £1.7m works were built after the village suffered more than 20 floods between 1978 and 2008.
Mr Throup said flood defences opened in Upton upon Severn in July were also working well.
The flood wall in Upton upon Severn protects about 60 properties.
Collapsed pipe
The railway line between Great Malvern and Hereford earlier reopened after a collapsed pipe caused a hole and closed the line.
The hole at Colwall emerged next to another hole that appeared after a build-up of water in June.
John Baker, of Network Rail, said: "Normal service has resumed although there is a 20mph speed restriction along that section."
Mr Baker said: "The collapsed pipe had washed away the ballast but that's been reinstalled and we think we've solved the problem."
A flood warning remains in force on the River Severn at Severn Ham, Tewkesbury.
Two flood warnings for the River Teme at Bransford in Worcestershire and Stanford Bridge in Herefordshire have been lifted.