Hagley residents oppose plans to build 175 new homes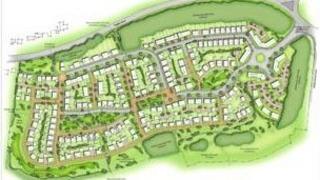 More than 2,000 people have signed a petition against plans for a housing estate in a Worcestershire village.
Developer CALA Homes wants to build 175 homes in Hagley between the Stourbridge Road and Kidderminster Road junction.
A local campaign group has said the village infrastructure would struggle to cope with the increase in new residents.
CALA Homes has said the development would be phased over four years so any population increase would be gradual.
Rachel Jenkins, who is campaigning against the plans, said it would be "a complete over-development of our area".
She said: "There are alternative brownfield sites in Bromsgrove, the Prince of Wales in Hagley where the bypass was going to go through, that's been derelict for three or four years.
"It wouldn't impact so much as all these houses at that junction."
'Most suitable'
Sajid Javid, Conservative MP for Bromsgrove, said he was backing local people in their campaign against the housing plans.
He said: "People aren't against it just for the sake of being against the development, it's can the local infrastructure cope?
"The central point is since these plans were drawn up, the traffic around there has picked up and people feel the number of homes is inappropriate for this area."
But Darren Humphreys from CALA Homes said the new development would increase traffic at peak times "by less than 1%".
He said: "We will spend over £1m on improvement works to the Kidderminster Road roundabout.
"This work will improve the traffic flow so that peak-period queues are reduced.
"Further improvement works are also proposed to the junction of Kidderminster Road and Worcester Road."
The developer said it would also help fund an extension to the existing doctor's surgery to cope with extra use.
The land was originally earmarked for development in Bromsgrove District Council's Local Plan in April 2011.
The council head of planning Ruth Bamford said: "This land in Hagley is the most suitable for housing.
"If it didn't go here it would most likely go on greenbelt because there isn't much land around Bromsgrove district that can take new housing."