Redditch Alexandra Hospital review delayed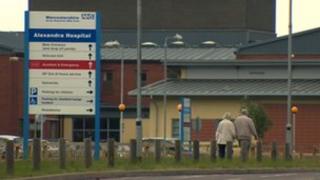 NHS bosses have delayed a review into the future of acute hospital services in Worcestershire, saying more work needed to be done.
Initial proposals included closing the Accident and Emergency (A&E) unit at Redditch's Alexandra Hospital.
A petition against the closure attracted more than 52,000 signatures.
After an NHS Worcestershire meeting, managers agreed more information was needed to put together the final short-list of options.
They said they would look more closely at the implications of closures.
Eamonn Kelly, Chief Executive of NHS Worcestershire, said it was "important that we get this right for local people" and that "good progress" was being made.
Worcestershire Acute Hospitals NHS Trust, responsible for hospitals in Worcester, Redditch and Kidderminster, said it needed to find £50m savings by 2015.
'Ongoing uncertainty'
Despite the delay, NHS Worcestershire said "no change is not an option".
Mr Kelly said: "We remain committed to finding the best possible combination of high quality, safe, accessible, sustainable and affordable services."
The initial proposals had suggested closing maternity services at the Alexandra Hospital and downgrading the A&E unit to a minor injuries centre, similar to one currently operating in Kidderminster.
Kidderminster Hospital also faced seeing surgery moved to Worcester.
Campaign group Save The Alex has lobbied against the Redditch closures.
Neal Stote, a member of the group, welcomed the latest decision, but said he was concerned about the "ongoing uncertainty" and its effects on staff and the ability to recruit new staff.