Worcester teenager Tilly Chester selected for Paraorchestra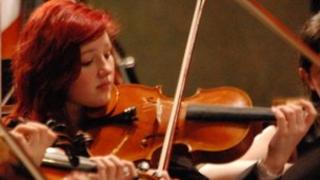 A teenager from Worcestershire was selected to play in Britain's first disabled orchestra at the Paralympics.
Tilly Chester, 15, from Malvern, has a hearing impairment and was chosen to play the viola for the Paraorchestra.
The group of 19 musicians played during the closing ceremony in London on Sunday night.
The Paraorchestra includes a one-handed pianist, a blind sitar player and a musician who has cerebral palsy.
Tilly has said: "It's so exciting to be part of because we're taking music in a different direction."
She added: "We play famous tunes but we like to put what we call the Paraorchestra twist on it."
'Different technique'
The Paraorchestra was founded last year by conductor Charles Hazlewood, whose daughter has cerebral palsy.
Tilly said she was selected after the conductor met her at a session of the National Youth Orchestra, for which she also plays.
Tilly began learning the violin when she was four and switched to the viola a year ago.
"Growing up my hearing impairment was never really a problem, I just learnt to play my instrument in a slightly different way to everyone else," she said.
"My teacher and I have adapted a different technique which doesn't focus on listening to how it sounds, we focus more on how it feels."
Tilly is a student at Chetham's school of Music and has played in the National Youth Orchestra since January 2012.