Mathilde and Roger Lamb inquests: Couple fell to deaths in Morocco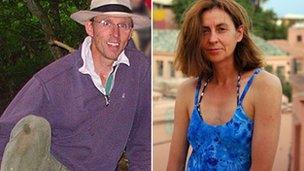 A father fighting depression killed himself on holiday in Morocco four days after witnessing the accidental death of his wife, an inquest has heard.
Mathilde Lamb, 43, fell 60ft from her apartment window as she remonstrated with revellers celebrating Ramadan in the street below, the inquest heard.
The coroner ruled she died accidentally while her husband Roger, 47, took his life jumping down a hotel stairwell in Essaouira on 21 August, 2011.
Their deaths orphaned their children.
The inquest heard the couple, who were originally from the village of Pensham, Worcestershire, but had moved to Wiltshire, both died from their injuries in hospital.
Coroner David Ridley at Trowbridge Coroner's Court, Wiltshire, said there was no evidence to the highest standard of proof to suggest foul play, anything suspicious or any third-party involvement.
The court heard the couple's marriage had been "on a knife-edge" and they were concerned with financial problems in the months before the holiday.
However, Mr Ridley said in Morocco the couple seemed relaxed.
"While on holiday, the comments were that Mr and Mrs Lamb were at ease. What we have here is a family enjoying themselves on holiday," he said.
"There is nothing to intimate that it was anything other than that."
The family had not drunk any alcohol during their stay in Morocco, he said.
On 17 August, Mathilde Lamb, who was known as Tilly, went to investigate a disturbance.
"Tilly climbed on to the sofa at the end of the window and put her foot on the lower rung of the window balustrade. She was trying to get a better view of what was happening," he said.
"Sadly, she lost her balance and tragically fell. On the way down she hit a canopy hoarding."
The couple's children, who cannot be identified for legal reasons, were asleep during the incident, with Mr Lamb being the only witness, the court heard.
The hearing was told that shortly after his wife's death, Mr Lamb, a geotechnical civil engineer, had been stopped by locals from wading into the sea carrying a backpack full of rocks.
The alarm was raised when Mr Lamb failed to meet his children for breakfast a few days later.
It was then they discovered he had fallen from a stairwell at their new accommodation, a few streets away from where Mrs Lamb had fallen.
Coroner Mr Ridley said Mr Lamb, who suffered serious head injuries in the fall, "took his own life while suffering from depression".
The coroner said before the tragic loss of his wife, Mr Lamb was "already a fragile and vulnerable person".
The court heard Mr Lamb had been working in New Zealand since early 2010 and there were plans for the whole family to move there.
Mrs Lamb had reservations about emigrating, the hearing was told.
Medical records read to the court said Mr Lamb had had trouble sleeping since 2010 and had also felt "suicidally low".
Friends said the Lambs used to have parties and a busy social life but Mr Lamb had recently become interested in living as a "new-age traveller".
Family members said in a statement read outside court the inquest had brought to an end a "what had been a harrowing period".
"We pray that [Mr and Mrs Lamb] may now rest in peace," the statement said.
"They were devoted and loving parents who succeeded in bringing up their lovely children, and the future of their children will remain the principal concern of both their families."
Related Internet Links
The BBC is not responsible for the content of external sites.