Kidderminster carpet traders dispute the decline of the industry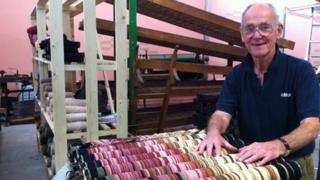 While historians say the decline of the carpet industry in Kidderminster was inevitable, those still in the business argue they are making a success of the trade in the face of "challenging" economic times.
Cloth weaving began in the Worcestershire town in the Middle Ages, according to Melvyn Thompson, a former factory worker and carpet historian.
He is one of 20 volunteers preparing to open a museum commemorating the town's carpet industry, which at its height, boasted 25 factories and employed about 15,000 people.
Mr Thompson said: "Kidderminster used to be wall to wall carpets, if you lost your job at one factory you could walk down the road and get one in another.
"The boom time was post-war in the 50s, 60s and 70s when exports opened up - they couldn't make enough carpets.
"It was one of the top towns for income per family because work was plentiful and the whole family could get work - it was good money."
Today, the industrial landscape looks very different. Many of the old carpet factory buildings have been demolished and replaced by supermarkets and car parks.
Mr Thompson, who started work as an apprentice in 1953, said it began in the 1980s when the economic situation changed.
He said: "Laminated flooring came in, the price of raw materials has gone up, technology has changed and more carpets are being imported.
"Now we reckon there could be as few as 500 people working in carpets, only five factories are still going.."
He believes the decline was "inevitable" as traditional skills have been quietly dying out.
"This is why the Museum of Carpets is vital, we're preserving machinery but also preserving the skills.
"We're training people up to do demonstrations on two working hand looms," he said.
Flexible workforce
The Herefordshire and Worcestershire Chamber of Commerce is unable to put a figure on how much carpet production was, and is, worth to the town but described it as "very important" in the past.
Mike Ashton, the chambers' chief executive, said: "The companies still based in Kidderminster are world class and this heritage has created some great opportunities in other manufacturing sectors."
However Charles Annable, the managing director of Brockways Ltd, dismissed any so-called "decline".
"We don't like to think of it in that way because we're still very active and keep on going.
"Of course you have to adapt and change but the last redundancies we made were 15 years ago when we had to lose 40 people - now we're down to 100."
Mr Annable said the secret to the firm's survival, with an annual turnover of £15m, was down to the skill of the workforce.
He said: "They're great experts because carpet has been in the blood of Kidderminster for so many years.
"We have generations of families who have worked for us and that in itself is incredibly helpful.
"They're also very flexible as we've had to adapt and evolve using new machinery."
But Mr Annable, whose father Roy is the company's chairman, also admitted the market was "incredibly challenging".
He said: "The market is down 15-20% from this time last year and my father said it's the most difficult period he can recall in 48 years with the firm.
"We rely heavily on the housing market so if that isn't moving then sales aren't moving.
"But being a family business, we can ring in the changes quite quickly."
Hong Kong airport
Other firms like Brintons, with 1,700 staff globally, have also had to adapt and lost 70 of its 700 UK-based staff last year.
It was recently bought out by the Carlyle Group in a £40m deal, taking it out of the hands of the Brinton family after more than 200 years.
But Mr Thompson said reputation was invaluable.
"Brintons have a name that will sell a carpet anywhere, any time - like the word 'Hoover'.
They also do well from contract work, he said.
"A lot of their woven carpet still goes into cruise liners and casinos and they had the exclusive deal on Hong Kong Airport many years ago," he said.
Maria Flint worked as a setter at Carpets of Worth for 19 years and said the shrinking of the industry has had a domino effect on the town.
She said: "It's such a shame, Kiddy used to be packed with people but even on a Saturday it's quiet.
"When I worked in the factory I used to be able to go down to browse the shops in my lunch hour and buy something if I fancied it - not any more.
"People have to stop and think about what they're spending, there's unemployment all over the place."