Broadway church law need not be enforced on villagers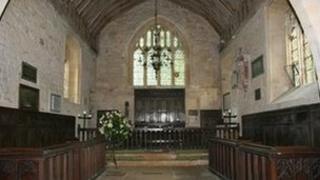 Villagers in Worcestershire will not have to pay for church repairs, after a decision by the Charity Commission.
The Parochial Church Council (PCC) said it may enforce an archaic law forcing Broadway residents to pay for repairs at St Eadburgha's church.
Up to 30 households in Broadway were sent letters explaining the chancel repair liability law could be used to enforce the payments.
The PCC decided not to make the demands on advice offered by the commission.
'Cause for optimism'
A spokesperson for the commission said: "The advice was given based on the particular facts of this case and not as a matter of general precedent, since the circumstances relating to decisions of PCCs about registering or enforcing chancel repair liability will vary considerably from case to case.
"We are not endorsing the decision itself, nor are we granting trustees permission to do something beyond their existing powers, we are simply providing additional assurance that the trustees' decision was reasonable given the charity's circumstances."
The Reverend Michelle Massey, who oversees both St Eadburgha's Church and St Michael and All Angels Parish Church, said: "It's great that we've managed to get this formal advice off the Charity Commission.
"It really is the best outcome for us and confirms that we don't have to enforce the liabilities."
The Conservative Mid Worcestershire MP Peter Luff, who has been campaigning for the affected residents, welcomed the news, but added there were "two caveats".
Mr Luff said: "First, it sets no general precedent for other local communities facing the same challenge.
"Second, in respect of Broadway, it may not give the absolute guarantee local residents seek that the liability will never be enforced in the future.
"The saga surrounding chancel repair liability is by no means over but this most recent news is definitely a step in the right direction and a cause for optimism."