West Midlands Safari Park snake handler bitten by cobra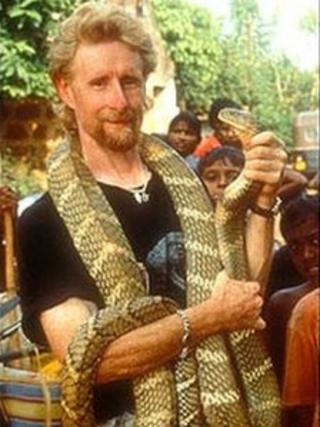 A snake handler at West Midlands Safari Park had to be airlifted to hospital after being bitten by a venomous snake.
Keeper Mark O'Shea is said to be in a "stable condition" after the bite by a king cobra on Sunday afternoon.
Director Bob Lawrence said Mr O'Shea, who has presented TV shows and written books on reptiles, was bitten as he tried to feed the snake.
He said that, although king cobras were one of the most venomous snakes, it had only been "a minor nip".
Mr Lawrence said he hoped Mr O'Shea, from Telford, in Shropshire, would leave hospital within the next day.
Venom from a king cobra can kill animals up to the size of an elephant if it enters their bloodstream.
Mr O'Shea has previously presented TV programmes on reptiles for Channel 4, the Discovery Channel and Animal Planet.
Sleeping Beauty
He has also written several books on the creatures.
Mr Lawrence said the safari park, in Bewdley, Worcestershire, stored anti-venom for all of its venomous animals and routinely rehearsed such situations with local hospitals.
He added: "It is very, very rare that these things ever happen.
"Working with animals like this always carries hazards with it, but we have safety measures in place."
He said Mr O'Shea had been with another member of staff when he was bitten by the 14-year-old female snake, called Sleeping Beauty, which has been at the safari park for 10 years.
Mr Lawrence added that a full investigation would be carried out into the incident.
He said: "You can't blame the snake for what happened - it's not its fault."
A spokeswoman for West Midlands Ambulance Service said Mr O'Shea had already received "excellent first aid" from staff who immobilised his leg and had anti-venom ready to administer if needed.
The ambulance service said: "Due to the fact the venom can be lethal if it enters the bloodstream, the man was airlifted to hospital as a precaution."
Medics at the hospital were alerted ahead of Mr O'Shea's arrival.