Hartlebury Castle: Church agrees sale price of £2.5m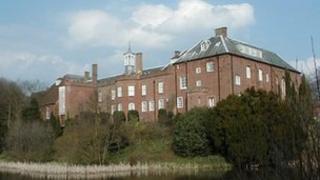 A group hoping to buy the former residence of the Bishop of Worcester has agreed a price with its owner, the Church of England.
The Hartlebury Castle Preservation Trust (HCPT) said it had agreed to pay £2.45m for the freehold of the castle, its gardens and parkland.
Alison Brimelow from the HCPT described the deal with the Church Commissioners as a "very important milestone".
The HCPT is reapplying for lottery cash after a bid last year was rejected.
Ms Brimelow said: "We are absolutely delighted to have reached an agreement with the Church Commissioners.
"It is a very important milestone on our road to the acquisition of the castle.
"With the backing of the commissioners and the support of Worcestershire County Council, we can concentrate on revising our bid and securing the additional funds."
Private donors
The Heritage Lottery Fund (HLF) turned down a bid for £478,000 from the HCPT last year over concerns about the original £2.2m asking price.
Ms Brimelow said they hoped to complete the process by the middle of 2014 and that trustees were putting together a revised bid "in the same order as before" to submit to the HLF in October.
She added that it was hoped they could secure contributions from private donors, and £50,000 has been raised from donations made by members of the public.
Rosemarie Jones from the Church Commissioners said they were committed to working with the HCPT to preserve the castle and ensure it remains a public facility.
The castle houses the county museum and the Hurd Library, a collection of 5,000 volumes ranging in date from 1476 to the early 19th Century, which includes more than 40 volumes from the library of Alexander Pope.
It was the home of the Bishop of Worcester until 2007.