Hartlebury waste incinerator approved by Secretary of State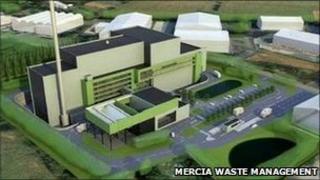 Plans for a £120m incinerator for Worcestershire have been approved by the government.
Secretary of State for Communities and Local Government Eric Pickles MP said the the 200,000 waste facility near Hartlebury can be built.
Worcestershire County Council approved the application from Mercia Waste Management in March 2011. A public enquiry was held in November.
Campaigners say cheaper alternatives should be considered.
Sheridan Tranter told BBC Hereford and Worcester: "There are lots of concerns I have in relation to the greenbelt and we don't need incineration, there are cheaper methods that exist."
He added that the campaign against the plans was "not over".
New jobs
The new plant, called EnviRecover, will supply around 20,000 homes per year according to Mercia Waste Management.
The company also said the incinerator would create 30 permanent jobs and around 200 jobs during the construction process.
It is being funded by a Private Finance Initiative after the company signed a 25-year contract with Worcestershire County Council.
Councillor Anthony Blagg, cabinet member for environment and waste management, said it would benefit the area.
Mr Blagg: "Sitting back and doing nothing simply was not an option because of the environmental and financial impact it would have had.
"We understand that some of the community in and around Hartlebury have concerns and work will continue to address any they may have."
MP for Mid Worcestershire Peter Luff: "This is a sad day for the people of the area, there are some modest but apparently useful conditions attached to the approval but fundamentally the community has lost its brave fight."