Hereford High Town life-sized bull statue installed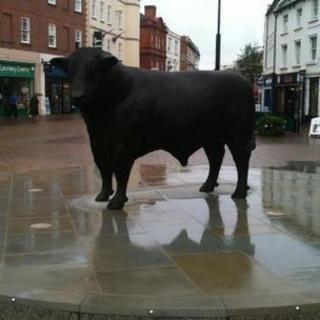 A life-sized statue of a bull has been installed in Hereford city centre.
The 1.6m (5.2 ft) high bronze statue stands near to the Old House Museum in High Town.
The city's mayor Councillor Brian Wilcox said the statue was funded by a benefactor called Clive Richards as a "thank you to the city".
Mr Wilcox said: "Every measurement has been checked and tested. It's an exact replica of a Hereford bull and it's brilliant."
Hereford Civic Society's chairman John Bothamley said members were concerned about the location of the bull.
He said: "We don't think it's ideal because it meant the removal of trees and seating with no plans as yet to reinstall those back in the city centre.
"There are many other better locations it could have been put."
Critics have also complained that the statue is bronze, not the brown and white colours of the breed.
Architect Brian Alabaster said: "It's not a live bull and it's not for me to say whether it should be coloured, I'm not really concerned whether people think it should be.
"It's just wonderful that people are talking about it and I'm not concerned about whether the reaction is positive or negative."