Evesham United's £2m Jubilee Stadium opens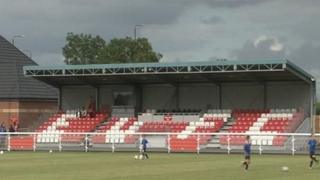 A Worcestershire football club which has been homeless for nearly six years is playing at its new £2m stadium.
Former Aston Villa manager Ron Atkinson has officially opened Evesham United's Jubilee Stadium.
The new stadium received funding from the Football Foundation and the Football Stadia Improvement Fund.
To mark the opening, the Manchester United Legends team, expected to include Bryan Robson and Dennis Irwin, played Evesham United Old Boys.
As an FA Community Club, their new facilities will also be used by the public for sport and and community events.
'All worthwhile'
The club said the new stadium would "allow it to meet the growing demand for football in the local community and provide appropriate facilities for the first team to host Southern League Premier Division matches."
The facility includes six first team and community changing rooms, seven community grass pitches and social space.
Jim Cockerton, Evesham United chairman, said: "This is a fantastic day for Evesham United and the local community.
"The project has taken years of planning and to see the stadium complete and ready to be used makes it all worthwhile."
He added the project had been a "great team effort" but without the expertise of the Football Foundation and its £955,457 grant, the project "would never have left the drawing board".