Mercian Regiment join march through Worcester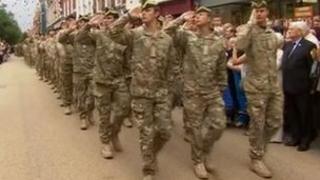 Nearly 800 soldiers, including about 400 from the 2nd Battalion The Mercian Regiment, have marched through the centre of Worcester.
Crowds lined the city's streets for the homecoming and freedom parade that got under way at 11:00 BST on Quay Street.
Members of the Grenadier Guards, the Queen's Royal Hussars and the Royal British Legion also took the salute outside the Guildhall.
Seven soldiers from the city received service medals.
In a ceremony at the Guildhall, six soldiers from the 2nd Battalion Mercians were presented with medals in recognition of their recent tour of duty in Afghanistan.
A member of the Hussars also received a long service medal.
Capt Mike Brigham, from the Mercians, said the parade had made him feel like a "rock star".
He said: "Walking around you see your friends and family. There's no greater feeling."
Mercian Regiment soldiers also marched through Nottingham on Monday and Derby on Tuesday.